The 21st century culture of librarianship is responsive and innovative; we strive to be indispensable. To create the libraries our patrons need, librarians are continuously learning from and about our users. We have a large constellation of library-user information, ranging from conversations with individuals, to analysis of collection usage data, to reports published by professional associations. Surveys fit into this undertaking as one of the most efficient means of gathering information directly from users. Unfortunately, surveys can be difficult to get right.
In this free one hour webinar, Robin Miller and Kate Hinnant will cover planning and testing surveys, distribution, and how to take action on your results.
Robin Miller and Kate Hinnant are the authors of Making Surveys Work for Your Library (Libraries Unlimited, 2018).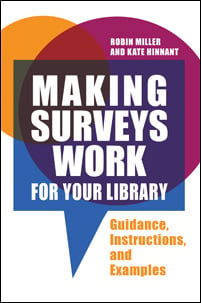 To receive a discount on your purchase, use the following discount code:
niche
https://www.abc-clio.com/ABC-CLIOCorporate/product.aspx?pc=A5634P