I've been doing a lot of web demos for libraries around the country lately.
As I'm showing people options for promoting library resources, I've noticed that a solid majority of the libraries I talk to have a Facebook page and they're making an effort to post regularly. I've also noticed a lot of uncertainty about how to use Facebook for libraries effectively. Posting as an organization, not just an individual requires a slightly different approach.
Here are 4 simple tips that will help you spark interest, be relevant, be genuine, and reach your audience.
1: Understand your context.
When you're posting for a library, your purpose is a little different than when you're posting personal stuff. Instead of just sharing funny videos, and sweet snippets of life that your friends will like, you're announcing events, promoting library resources, and trying to give people a reason to use their library.
There's a real danger that your posts will seem dry and dull when they show up in the same feed as the cute kittens, dance recitals, and the "look what this redneck did with a 4 wheeler and and a bungee cord" video.
2: Use pictures. In fact, always use pictures.
Visually appealing posts simply get more attention than text. In the fraction of a second that your post appears in someone's Facebook feed, a picture will hold attention and text will just scroll by. Take pictures at events. Take pictures inside, outside, and all around the library. Use thematic and relevant pictures that you find by searching Google Images. You're a non-profit posting on Facebook, for heaven's sake. Just about everything falls under fair use in that scenario.
3: Use Canva.
That's http://www.canva.com if you're not familiar with it already. Canva is the best thing I've found for creating a facebook post that mixes text with an image. Here's what I do:
I find a Canva template that has about the right amount of text.
I substitute my own text for whatever I'm announcing or promoting.
Then I substitute my own image. Often, this will mean changing some colors with the text or a text background so it still looks good.
I don't know a lot about color theory, but I've found I can usually use a color picker program to sample one of the colors from the picture itself. That almost always produces something complimentary and it makes me feel all artistic and tasteful inside.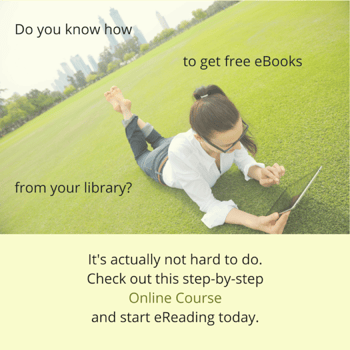 Using Canva, I can create an image for a Facebook post that's just the right size and resolution. To the right you'll see an example of the kind of image I'm talking about. We use this one to promote library resources and link people back to instructions in our e-learning tool.
Canva also has some great tutorials that are worth checking out. Here's a tutorial on using text and images together.
4: Reference real people.
Everybody appreciates a little personal attention.
When you take pictures at events or just around the library. Ask the people in the picture if you can use their names in a Facebook post. If they'll let you use their Facebook name, that's even better.
Also, make sure they like your Facebook page. Tell them to go back and look for their photo later. The chances that they will tag themselves, reshare or like the post quadrupintuple with that personal connection. That's a very precise statistical term, by the way, meaning "they go way up".
Libraries are about real people, real patrons. The magic of social media is the way it lets you multiply those real human connections
---