Beautiful San Francisco
It was a great time of year to be in San Francisco. The sea mist in the morning is cool and refreshing. The afternoons are pleasantly warm and sunny. It makes for a welcome change of pace from 100+ daily temperatures around my home here in Utah.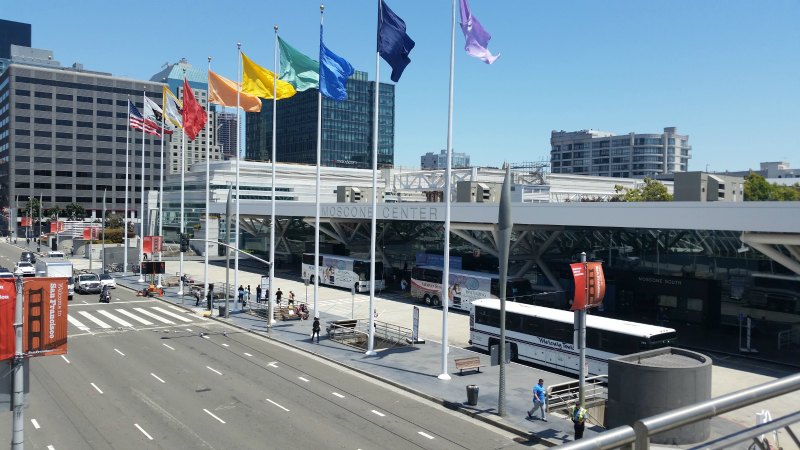 Friends, New and Old
I love the unexpected new connections that always seem to come from a gathering like the American Library Association Annual Conference (#ALAAC15).
Somehow, the odd and incongruous library space is just enough common ground to form new friendships. Friday night, for example, started out as a solitary excursion to a little Indian restaurant on Eddy Street. The gentleman on the barstool next to me happened to be a trustee to a small library system in Colorado. Our conversation covered a wide ground including his career as an academic, service initiatives for Spanish-speaking patrons, and life after a spouse passes away. We parted warm friends.

It's also great to run across friends and colleagues from long ago, as it's been about 5 years since I last attended ALA. I so enjoyed my brief reconnections with many of the friends I hadn't seen in all that time.
Unexpected Gardens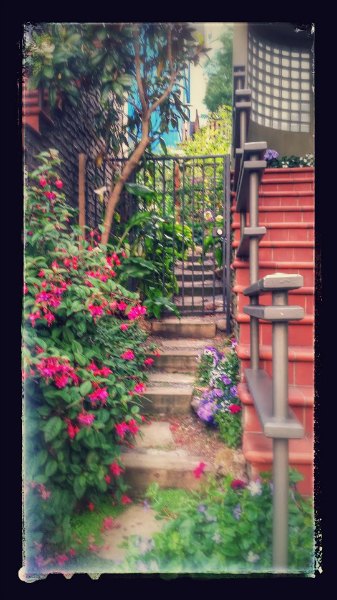 On Saturday night, I enjoyed one of my favorite things. You might call it a "city wander".
A "city wander", for me, is to find my way to a destination in an unfamiliar city without using a map. I navigate instead using my sense of direction, a general mental picture of the city, and maybe a landmark or two. It is, for me, an invitation to serendipity.

I enjoyed the San Francisco version of this treat in company with Jim Wilson, Dynix co-founder, colleague, and friend. We followed Mission Street from the Moscone Center out to Embarcadero. From there we followed the old wharf around the curve of the peninsula to Ghirardelli Square. The "wander" part, then, was to cut back Southwards through the city to the Moscone Center just to see what we would find along the way.

San Francisco did not disappoint. We ran across this small delight of a backyard garden, shown here with some photo enhancement courtesy of Google.

There was a hummingbird at work on the pink blossoms in the foreground. He flitted out of sight just as I snapped the picture.

The footpath in this picture is just South of Coit Tower.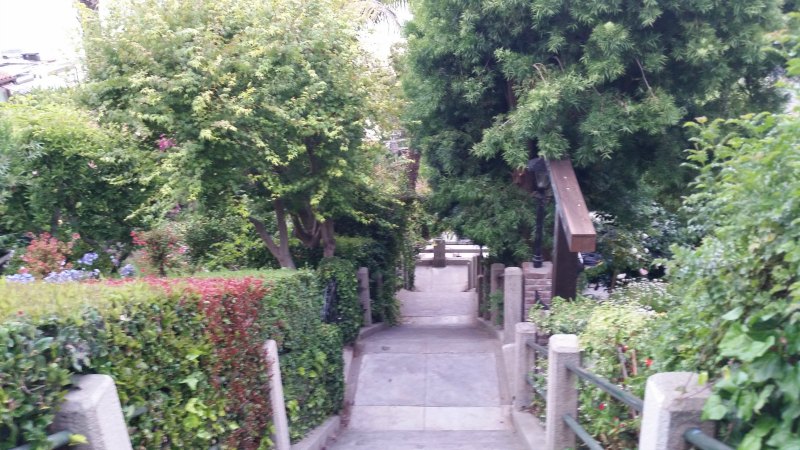 You have to go down what looks like a private driveway to find it.

There is a parallel, I think between these unexpected gardens from my wander, and the library resources we want to help patrons discover. I didn't know they were there, but with the reassurance of a few landmarks and general sense of where I was headed, there they were, just waiting to be discovered.
If you were at the ALA this year, what did you discover?
Let me know in the comments below.
---